SculptGL
SculptGL is a web sculpting application, powered by WebGL and JavaScript.
The source code can be found on github here.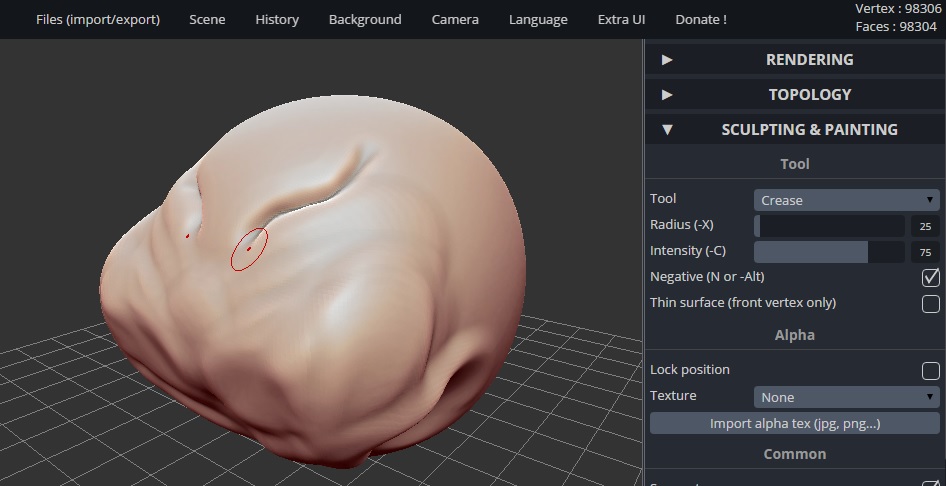 Shortcuts and controls
You control the camera when you click on the canvas or with mouse right click.
Double click on the canvas will reset the camera, double click on the model will focus on the clicked area.
The Ctrl key is generally assigned to the masking tool.
The '~' character means "while pressed".
Camera
~Alt + move camera : pan camera (if you release alt you switch to zoom mode)
~Ctrl + move camera : zoom camera
Shift + move camera : Snap to nearest 90°
Space bar : Reset camera
T : Top view (bottom when pressed twice)
L : Left view (Right when...)
F : Front view (Back when...)
Arrow keys : fps-like movement
Tools
0 - 9 : sculpting tools
E : translate tool
R : rotate tool
G : scale tool
N : invert brush sign
~Alt : invert brush sign
~Shift : smooth tool
~X : edit radius (horizontal mouse move)
~C : edit intensity (horizontal...)
~Ctrl : masking tool
Ctrl + click : invert the mask
Ctrl + drag : clear the mask
Scene/Files
Ctrl + O or Ctrl + I : add file (obj, sgl, ply or stl) or you can also drag and drop on the canvas
Ctrl + Alt + N : clear scene
Ctrl + E : save as OBJ
Ctrl + Alt + E : save as OBJ the current selected meshes
~Shift + click on mesh : add or remove the picked mesh to the selected meshes
Delete : delete the selected meshes
Miscellaneous :
Ctrl + Z : undo
Ctrl + Y : redo
URL options
You can add some options in the url to configure the preferences :
language : english/chinese/korean/japanese


projection : perspective/orthographic
cameraMode : orbit/spherical/plane
pivot : boolean
fov : number [10-90]


shader : pbr/matcap/normal/uv
flatShading : boolean
wireframe : boolean
curvature : number [0-5]
exposure : number [0-5]
environment : integer [0-4]
matcap : integer [0-9]


outline : boolean
outlineColor : rgba color (ex: outlineColor=128,62,0,0.5)
grid : boolean
scaleCenter : boolean
mirrorLine : boolean
Boolean are specified with true/false or 1/0.
Example :
stephaneginier.com/sculptgl?language=english&outline=1&wireframe=1&environment=3&projection=orthographic
Extra information
SculptGL is available on the chrome web store.
If you want a standalone version, it's here (nodejs version, so same performance as the web version).
Also, keep in mind that I often update the web version (unlike the standalone version).

Related projects
For the old SculptGL version you can play with it here.
Sketchfab made a fork of the old Sculptgl version with a new design : Sculptfab.
Fahd Arshad, Hassan Mehmood and Fauzan Raza also made fork of the old Sculptgl version with kinect controls and a kinect friendly interface : Hephaestus.